Since I just finished Lady Carolina Blooo yesterday, I've had some time to think about and put together some details about what went into her creation and my experience. Here they are:
*There are "Easter Eggs" on Lady. They are a rooster, pig, bird, goat, rabbit and heart. Be sure to look for them.
* Lady Carolina Blooo will be on display at Carolina Inn in Chapel Hill from August 23 to the end of the year.
*Since Vietri donated the stoneware, I used lots of the bottoms of dishes with the Vietri stamp. I also used cup handles and other cool bits.
*It took 20 caulk size tubes of adhesive to get all of the mosaic pieces on the body.
*It took 50 pounds of grout to grout the whole cow.
*There actually is blood in the grout and adhesive somewhere.
*I used about 10 bandages.
*I created 3 new callouses.
*I actually bruised my back by accidentally bumping into the ears one day.
*Most days during the grouting process I had grout in my hair and smeared on my face, arms and legs.
*I made 4 trips to Lowe's and 5 trips to Ace Hardware.
*During the week of 7/17 I bought all of the caulk size tubes of Lexel in Durham and had to switch to Loctite Power Grab adhesive.
*I estimate that I worked 160 hours from start to finish (40 days of work, average of 4 hour work sessions).
*The artist pay for each cow is $1,000. That makes my hourly rate $6.25/hr.
*I spent $347.74 in materials, which makes the hourly pay more like .56 cents per hour.
*I met and got to know 10 really great artists who worked in the studio at Golden Belt during the time I was there.
*I had a blast during the photo shoot with professional photographer, Steven Whisitt (http://www.whitsittphoto.com/).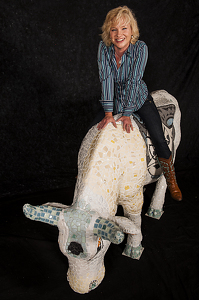 *I discovered Blend Cafe, which has fabulous coffee, pastries, sandwhiches, salads, smoothies and totally addictive self-serve frozen yogurt!
*My husband took a total of 2 days off work to come help in addition to the weekend hours he put in. (I'm totally keeping him.)
*My 17 year old son and his friend came and helped one afternoon.
*My friend and mosaic artist, Alicia Ortiz, put in more hours than I counted.
*Each cow will have a QR scannable code on the display base that will bring up an ap on any smart phone that will give information about the cow, the artist, and the sponsor.
*My grand daughter, Sofia-Renee, was born at UNC. She spent a week in the NIC due to her low oxygen level at birth and jaundice. The staff was outstanding.
*NC Children's Promise (http://www.ncchildrenspromise.org/about), the non-profit that the Cow Parade is supporting:
Provides advanced comprehensive care to children from all 100 counties in North Carolina, regardless of a family's ability to pay;
Maintains a family-focused, child-friendly environment, while providing state-of-the-art care for children with complex and life-threatening health problems; and
Continues cutting-edge research that assures new discoveries for treating childhood diseases.
*N.C. Children's Hospital is ranked in six of 10 U.S. News Media Group's "America's Best Children's Hospitals" ranking categories, including a top 10 ranking in pulmonology—the only top 10 ranking achieved by any children's hospital in North Carolina.
I hope this infomation has been fun and enlightening for anyone who took the time to read my blog!
Thanks and I hope if you don't get to the big unveiling "Round Up" on Saturday, August 18th (http://cowparadenc.com/wp-content/uploads/RoundUpInvite-lr.pdf), that you will get a chance to see the cows in their display locations.
---Paula