Greetings all!

I have spent the past month working on a cow for the NC Cow Parade. My cow is a commission sponsored by UNC Children's Hospital. Her name is Lady Carolina Blooo and she features four iconic logos of UNC. She also has farm yard friends hiding on her body for you to find. Lady Carolina Blooo will be on display along with 80 or so other cows at Golden Belt complex in Durham on Saturday, August 18th from 10 am to 4 pm. http://cowparadenc.com/wp-content/uploads/RoundUpInvite-lr.pdf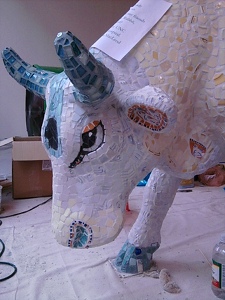 This event is open to the public and the only time all of the cows will be displayed together. I will be there all day and hope you will come to visit.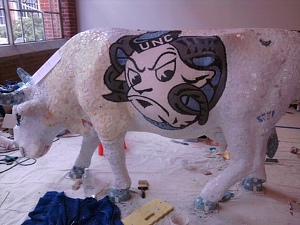 After the Round Up, the cows will be moved by Aug. 23 to different locations across the Triangle. They will be in "herds" of 4 and stay in those locations until December. In January the UNC Children's Hospital will auction them off to raise funds for the Children's Hospital.