This is an article written by Paula that appeared in the Spring 2008, Volume 9, Number 2 issue of "Groutline"; a newsletter published and distributed by
The Society of American Mosaic Artists
(SAMA). I have scanned the article so that everyone can see the layout of the article.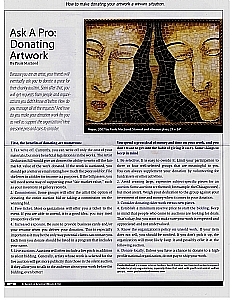 Donating
Artwork
By Paula MacLeod

Because you are an artist, your friends will eventually ask you to donate a piece for their charity auction. Soon after that, you will get requests from people and organizations you didnít know of before. How do you manage all of the requests? And how do you make your donation work for you as well as support the organization? Here are some pros and cons to consider
.
First, the benefits of donating are numerous:
1. Tax write off. Currently, you can write off only the cost of your materials, but more beneficial legislation is in the works. The Artist Deduction Bill would give art donors the ability to write off the fair-market value of the work donated. Tithe work is auctioned, you should get a letter or email stating how much the piece sold for. File the letter in a folder for income tax purposes. If the bill passes, you will need some way of supporting your ďfair-market value,Ē such as your inventory or gallery records.
2. Commissions. Some groups will offer the artist the option of donating the entire auction bid or taking a commission on the winning bid.
3. Free ticket. Most organizations will offer you a ticket to the event. If you are able to attend, it is a good idea; you may meet prospective clients!
4. Increased exposure. Be sure to provide business cards and/or your resume when you deliver your donation. This is especially important as it may be the only way potential clients can contact you. Each item you donate should be listed in a program that includes your name.
5. Live auctions. Auctions will often include a live pitch in addition to silent bidding. Generally, artists whose work is selected for the live auction will get more publicity than those in the silent auction. If they allow you to talk to the audience about your work before the bidding, even better!
You spend a great deal of money and time on your work, and you donít want to get into
the habit of giving it away. Some things to keep in mind
.
1. Be selective. It is easy to overdo it. Limit your participation to three or four well-selected groups that are meaningful to you. You can always supplement your donation by volunteering for fundraisers or other activities.
2. Avoid creating large, expensive subject-specific pieces for an auction. Some auctions are themed (for example, the Chicago cows), but most arenít. Weigh your dedication to the group against your investment of time and money when it comes to your donation. 3. Consider donating older work versus new pieces.
4. Establish a minimum reserve price to start the bidding. Keep in mind that people who come to auctions are looking for deals. Thatís okay, but you want to make sure your work is respected and appreciated and not undervalued.
5. Know the organizationís policy on unsold work. If your item does not sell, you should be notified. If you donít pick it up, the organization will most likely keep it and possibly offer it at the following auction.
6. Donate locally. Unless you have a chance to donate to a high-profile national organization, do not pay to ship your work.
Paula MacLeod is a mosaic artist in Durham, North Carolina. Herfavorite charities to support include local arts organizations, especially those that work with youth and animal welfare groups. www.pauIamacIeodmosaics.com