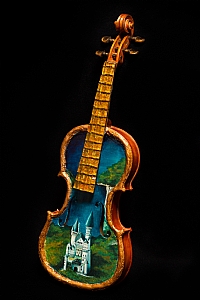 "The King's Music" by Paula MacLeod
http://www.durhamsymphony.org/fundraisers/
The 2011 Durham Symphony Painted Violin Fundraiser is in full swing. Stephen Ray Miller, Eric McCray and myself created new works of art on decommissioned violins. You can see pictures of the three voilins online (link above) or in person at High Strung Violins and Guitars 1116 Broad Street, Durham, NC (919) 286-3801 through the month of September and at Encore Boutique 3401 University Dr, Durham, NC (919) 403-0495 for the month of October.
The final drawing will be held at the Durham Symphony's Holiday Pops Concert on December 2, 2011. You do not need to be present to win.
Purchase your raffle tickets at High Strung Music or Encore Boutique or online at the above link.